Water is a fundamental and critical resource to life. We have been developing our water management plans within the framework of our local ecology. Currently, our school accesses potable from a borehole. Water for horticulture is manually supplied from a well and stream. This is an energy-sapping challenge for small children.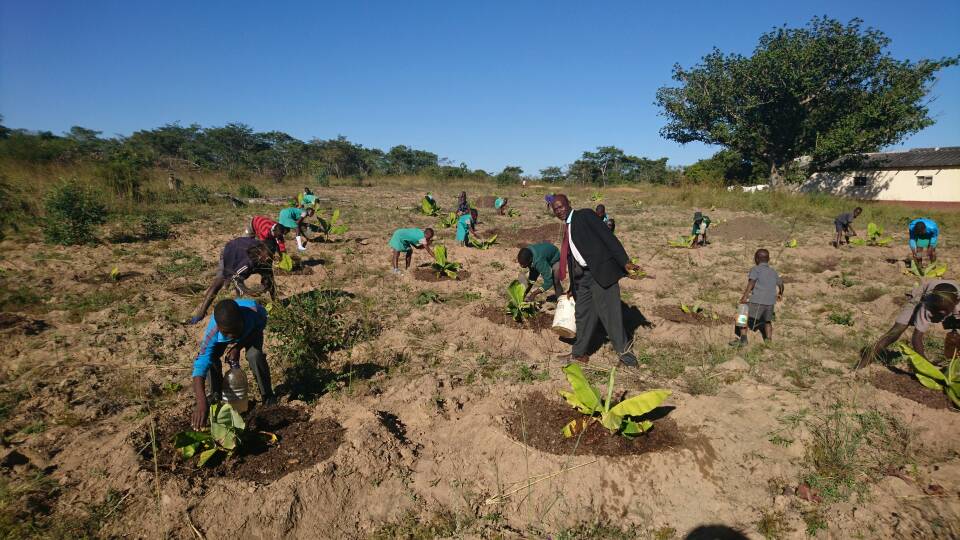 The Mukosi School Community is coordinating the modernisation of our school through a dedicated development programme.
Delivering running water
Thanks to the action of our Local Government, the Masvingo Rural District Council in line with Government Vision 2030. After receiving a grant from UNICEF, the Rural District Development Fund was dispatched to Mukosi School to carry out engineering works: drilling a borehole and installing our first water pump! Our school's maintenance team was on hand to provide labour and close support. We say cheers to everyone involved!
Our goal is to deliver piped water with renewable energy-driven pumps. We have built plans to recycle water within our horticulture and domestic systems. We now enter the design stage so that we can put the systems into operation. This is an exciting challenge and we implore individuals/organisations with passion to please join us with your energy/expertise to create this vital change.
Water management programme
Since Mukosi School farm is located deep inside the Catchment Zone of Tugwi-Mukosi lake, it is a priority for us to understand our ecological responsibilities. This means a school's water management programme that involves the following:
Accessing existing knowledge about our Catchment Zone...for example, rainfall forecast uncertainty and climate change.
Exploring new information and relationships within the zone to raise awareness and build a database. We appreciate that the incremental value of information is highest when the existing information is at its lowest level.
Sharing knowledge and information we generate with, for example, the Government's Geographical Information System (GIS) and the Zimbabwean National Geo Spatial and Space Agency (ZINGSA), which inter-alia provides expertise in monitoring climate variations and ecology.
Solving problems; remembering that children are remarkably adept at generating and visualising new concepts.
Plans
We have drawn up detailed plans to put the following programme into operation:
Install a solar-powered water pump at the borehole. Water can then be pumped from the borehole into two large capacity tanks.
Install two large water tanks from which water is gravity-fed to the school blocks and staff housing.
Install solar heating systems to supply hot water for domestic use. Plans are underway to build shower-rooms for the children. The water will be recycled and used to irrigate to horticultural beds and orchard.
Install a solar pump in the local stream/well to cater for the horticultural and animal husbandry programmes. This water is to be stored in a separate large capacity tank. Rainwater will be collected and supplied for horticulture. Currently, the school children have established a banana plantation and a deciduous/citrus orchard. The school has just established an animal husbandry scheme with chicken, turkeys, rabbits and goats. The water programme has been designed to cater for them as equally well as the children and staff.
The Mukosi School Community is looking for energy/expertise/volunteers with passion to help us put this exciting plan into operation.